CVUSC Adult Program
| Men's Program Notice Board
---
Premier Division league playing in the Vancouver Island Soccer League.

Season: September - March
Practices and Games: Team practices twice a week and play once a week: Games Saturday evenings or Sunday afternoons away games are played in Victoria
For more Info Contact: Rob Caya: robcaya@hotmail.com
Evaluations 2023 - 2024
Vanier Turf 3001 Vanier Drive, Courtney BC
8:00 to 9:45
Thursday Aug 17
Tuesday Aug 22
Thursday Aug 24
Tuesday Aug 29
Thursday Aug 31
---
Evaluations will be held at Vanier Turf - TUE & THU 7-9pm from August 3rd onwards.
Players interested in playing contact Rob Caya: robcaya@hotmail.com or Gabby Mason masongabby7@gmail.com
CVUSC Men's Team Win the VISL
---
The Comox Valley United Men's team clinched the Vancouver Island Soccer League second division title after winning a pair of games on the weekend. Saturday at the turf, CVU beat second place Victoria Highlanders 4-1. On Sunday, the team secured first place in the standings with a 4-2 road win over bays United. Comox Valley has a record of 14-1-2. The team has scored 50 goals and conceded 17. By: Scott Stanfield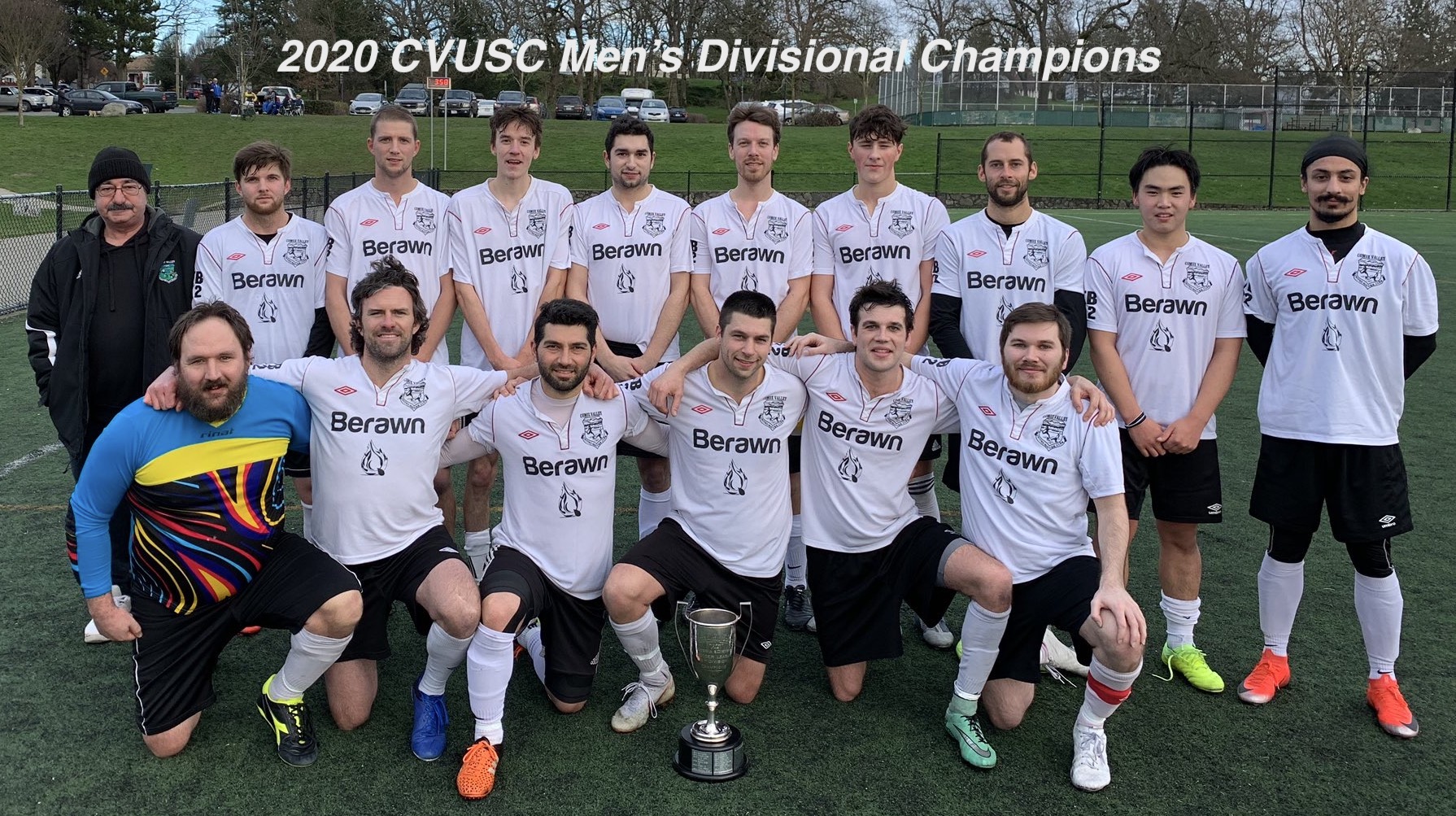 Tom Butcher Memorial Indoor Tournament
---
For more information Click Here:
CVUSC Adult Program
| Women's Program Notice Board
---
There are no notices at this time...
MIWSL Women's League
Mid Isle Women's Soccer League
Season: Sept - March
For Shooters Team - contact Jen - Jenwrye@gmail.com
For Kickers Team - contact Karen - karen.guinan@mnp.ca

Mid-Island Women's Soccer League (MIWSL) - 2018/2019 Season
---
Our women's program is made up of two teams competing in the MIWSL. Players wishing to play with any of the teams should contact our VP Women, Linda Wyton or one of the team reps. Teams play Sundays and practice on Tuesday nights at 8:30 on the Turf field. The MIWSL league runs September to April. The fee for the year, including insurance, is approximately $200. Jerseys are provided. Players can join a team at any point and benefit from a pro-rated registration fee.
Team Reps -
Kickers - Linda Wyton
Shooters - Jen Wrye
CVUSC Adult Program
| Adult Masters Program Notice Board
---
There are no notices at this time...
Masters
Three age groups: Over 35, Over 50, Over 60
Competitive Leagues
Season: September to Late Spring
Training: Wednesday evenings
Games: Sundays
Contact: John - hornbyross@hotmail.com
Our Masters' program has two teams:  over-35 and over-48. Both teams kick around Wednesday nights from 7:30 to 9:00 on the all-weather field. They don't play in an organized league but do play regular games throughout year against other Upper Island teams. They also compete in tournaments.
Master's season typically runs September to April. Registration is done through the team reps. Players wishing to play with either of the teams should contact: