Competitive Stream Placements 2023 - 2024
---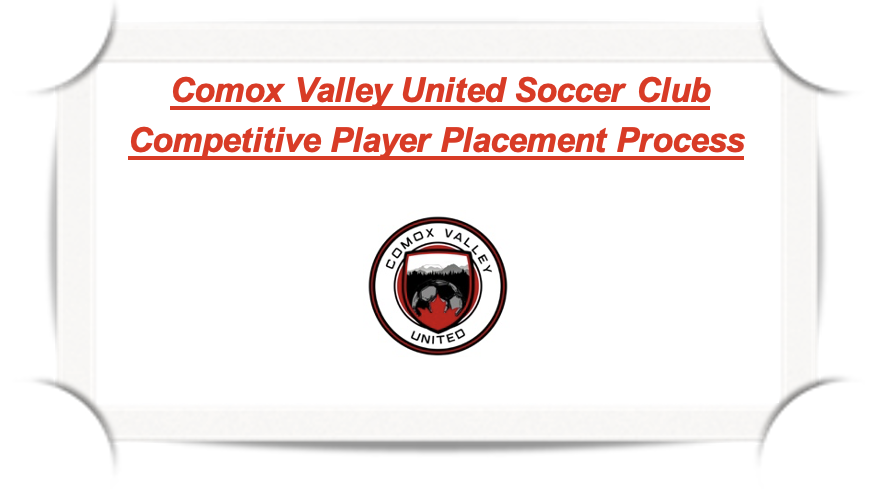 Comox Valley United Soccer Club will no longer be holding formal 'tryouts/evaluations/ placements' for our Competitive Stream.
Why?
Reduces player stress and anxiety
CVUSC wants to include and service as many players as possible within our programming
CVUSC believes all players should play at the level that they desire to play (Valley Youth Soccer League (VYSL) or Competitive)

Key differences between VYSL and Competitive streams are commitment level and mindset

CVUSC Technical Staff and Coaches are constantly monitoring and evaluating players in their own environment (VYSL or Competitive)
Process
Player registers for their preferred stream (VYSL or Competitive)

Competitive registration period occurs from mid-April to mid-May
Fall VYSL registration period occurs from mid-June to end of July

Once registration closes players are placed on teams based on performance and commitment from previous season(s) by CVUSC Technical Staff with consultation of Club Coaches

Eight's (U12 & U13) teams will be created to be as balanced as possible
Depending on player numbers and other factors, U14+ teams will be balanced or tiered

For players that have not played with the club previously and want to play in the competitive stream the following steps will take place:

U12 & U13 (Eight's) players will be placed in a group to start the season, teams will be formed over the first three to four weeks of the season.
U14+ players will join 2-4 training sessions with the appropriate team/level during June window the season before

Eg. A player who registers for the competitive soccer for the 2022/2023 season will train with the appropriate team/level in June 2022
*CVUSC is committed to keeping as many players playing as possible and placing players in the most appropriate environments. This being said, please be aware that there are various constraints and team formation requires numerous factors to be considered.
Registration is open until May 19, 2023 for the 2023-2024 Competitive Season. CVUSC will field teams to play in the Upper Island Soccer Association Leagues in September.
All players must register to be considered for the program. Registration will closes May 19. More information can be found here: Youth Competitive
Questions can be directed to the club's Technical Lead darrin@cvusc.org